JA Company Program® Pop Up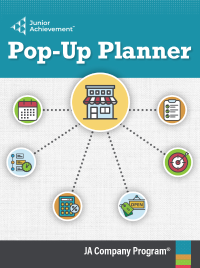 Implementation:
Classroom Based
Virtual
Pillars of Student Success
Entrepreneurship
High Entrepreneurship
Financial Literacy
Moderate Financial Literacy
Work Readiness
Moderate Work Readiness
JA Company Program
–Pop-Up teaches students how to plan, launch, and operate their own business venture within a structured, guided experience. Throughout the start-up process, students collaborate, make crucial business decisions, practice communication skills, and develop entrepreneurial knowledge and skills within a streamlined, teacher-led experience. All profits generated benefit the school, a designated community organization, or other school-approved recipient.
Through the process of establishing a pop-up venture, students will be able to:
-- Set personal goals through the lens of an entrepreneurial mindset.
-- Establish the elements of a successful business.
-- Define different roles and responsibilities necessary to launch a pop-up.
-- Understand the Four P's of Marketing (product, price, place, and promotion).
-- Launch, operate, and close out a pop-up business.
JA Company Program
Pop-Up is part of the JA Entrepreneurship Pathway and is recommended for middle and high school students (grades 6–12). This learning experience can be volunteer- or educator-led and is available in classroom-based, remote live, or after-school implementation. There are seven 45-minute sessions, with an additional opportunity for student engagement during the pop-up sales period.
As part of this learning experience, JA teachers and volunteers are encouraged to use the resources available in JA Connect® Learning Pathways, located at connect.ja.org. This self-guided experience includes interactives, JA Here to Career™, and games and apps for student use.
JA Learning Experiences support national and state standards in reading, mathematics, social studies, and work and career readiness. See below for more information on alignment with national and state standards.
Virtual Implementation
Remote live implementation is available for
JA Company Program
Pop Up
Alignment with State and National Standards
Request a Presenter to Teach Curriculum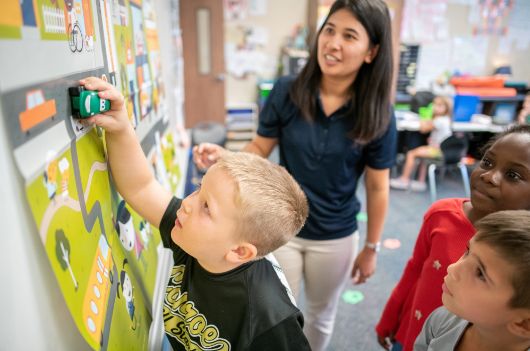 Junior Achievement lessons are delivered by volunteers from the community. These presenters are prepared by JA to facilitate engaging learning activities that focus on financial literacy, work and career readiness, and entrepreneurship. This results in an enriched learning experience that helps students make the connection between what they learn in school and the world outside the classroom.
Steps to Request a Presenter

1) Request Info
Once you've decided to have a JA volunteer in your classroom, fill out the form on this website. You will receive information on next steps.
2) Pick Schedule
You will be able to coordinate a schedule that works for your class either online or in conjunction with a JA representative.
3) Meet Presenter
Once a volunteer is identified for your class, JA will connect you with the presenter to discuss roles, expectations, and logistics.
4) Empower Students with Standards-Based Education
After all details are in place, the JA volunteer will deliver lessons to your students either virtually or in-person.