JA Our City®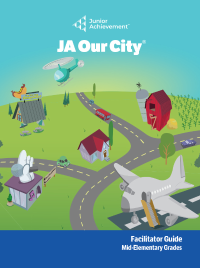 Implementation:
Classroom Based
After School
Virtual
Pillars of Student Success
Financial Literacy
High Financial Literacy
Entrepreneurship
Moderate Entrepreneurship
Work Readiness
Moderate Work Readiness
JA Our City
featuring Cha-Ching™ introduces students to financial literacy and learning objectives for social studies, including how people manage their money and the importance of economic exchange within a city. Dr. Alice Wilder, an award-winning expert on childhood learning (Blue's Clues, SUPER WHY, Cha-Ching, Speakaboos, and Amazon Kids original programming), consulted on the learning experiences redevelopment.
Following participation in the learning experience, students will be able to:
-- Explain the choices people have with money.
-- Recognize methods of payment and whether they are readily visible or invisible.
-- Examine the importance of money to a city and its citizens.
-- Describe how entrepreneurial businesses meet the needs and wants of citizens.
JA Our City
is recommended for third-grade students. This learning experience is available for classroom-based or remote classroom implementation. It includes five 45-minute sessions, with additional extended learning activities and optional digital assets offered throughout. Spanish translation is available for
JA Our City
.
JA Learning Experiences support national and state standards in reading, mathematics, social studies, and work and career readiness. See below for more information on alignment with national and state standards.
Virtual Implementation
Remote classroom is available for JA Our City.

Additional features include:

• Cha-Ching financial literacy music videos
• Optional augmented reality activities to do at home with parents or caregivers, enabling students to complete a word search or maze or watch a video
through a phone app
• Digital posters and games for use in the classroom


Alignment with State and National Standards
Request a Presenter to Teach Curriculum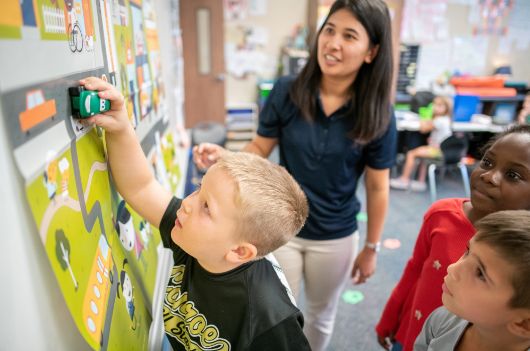 Junior Achievement lessons are delivered by volunteers from the community. These presenters are prepared by JA to facilitate engaging learning activities that focus on financial literacy, work and career readiness, and entrepreneurship. This results in an enriched learning experience that helps students make the connection between what they learn in school and the world outside the classroom.
Steps to Request a Presenter

1) Request Info
Once you've decided to have a JA volunteer in your classroom, fill out the form on this website. You will receive information on next steps.
2) Pick Schedule
You will be able to coordinate a schedule that works for your class either online or in conjunction with a JA representative.
3) Meet Presenter
Once a volunteer is identified for your class, JA will connect you with the presenter to discuss roles, expectations, and logistics.
4) Empower Students with Standards-Based Education
After all details are in place, the JA volunteer will deliver lessons to your students either virtually or in-person.