Junior Achievement of Kentuckiana New Summer Camp for Jefferson County Youth
Author: Jillian Cantu
Community Involvement
Published: Monday, 18 Sep 2023
---
Sharing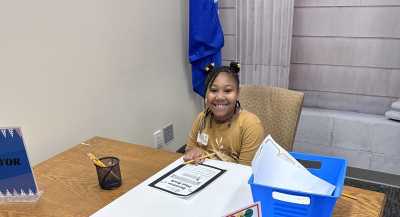 Image caption: Girl Working at Desk in Workshop
Junior Achievement of Kentuckiana is offering the first of several new out of school time programs, thanks to the generous support of an anonymous donor and community partners like KFC. For the first time since COVID, summer programming will be available to Jefferson County youth to experience JA programming at JA BizTown, JA Finance Park, and within community centers throughout Jefferson County. With a gift from KFC, the students will be served lunch while attending camp.
Coming out of the pandemic, Junior Achievement of Kentuckiana became aware of how many students in our community had missed the opportunity to participate in JA programming, due to the pandemic or from being absent from school. From this came a vision, JA wants to ensure every youth in our community can participate in JA programming.
We are proud to partner with several community-based organizations including The Boys & Girls Clubs, Cabbage Patch, Love City, Neighborhood House, Sowing Seeds of Faith, and BAYA to name just a few. On Monday, July 3, 2023, we will be hosting a one-day summer camp for one hundred students from Sowing Seeds of Faith at JA BizTown.
"We are so proud to bring students to the James W. Robinson Junior Achievement Center for Freedom of Enterprise and give them another chance to experience JA BizTown, JA Finance Park, or a program created just for them! In addition, we will also be taking our programming into the community centers to serve the students where they are", said Jennifer Helgeson, President of JA of Kentuckiana. "We are grateful for the support and partnership with KFC, allowing us to reach students in Jefferson County during out of school time."