5 Benefits of Hiring a Student Intern
Author: Hannah Henry
Work Readiness
Published: Tuesday, 07 May 2019
---
Sharing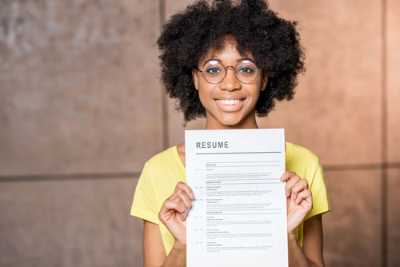 Image caption: A student displays their resume
With summer on the horizon, high school and college students are already thinking about their next step: internships. While college students may be viewing an internship as a foot-in to a career after they graduate, high school students are seeking internships to discover what career path they may want to pursue in the future.
The benefits of interning as a student are endless, but what do these young professionals have to offer to your company?
Determine Staff Demands for the Future
Small projects that would take only a few months are better suited for someone such as an intern than for an individual seeking full-time work. Most departments have had various job tasks that have driven managers to contemplate adding a position to the team. With an intern, these tasks will not only provide full-spectrum learning opportunities, but they will also help you to determine the demands of unassigned tasks. Should one duty take more time or demand more than expected, you will be able to plan (and budget) for future hiring opportunities.
Future Colleague
Do you remember that one job you hated? How about the one you loved? Your interns will be processing their internship the same way you have with your previous jobs. Should your company make it an enjoyable and multi-beneficial experience, you could be looking at your future hire. After all, they'll be learning your company culture, services or products--and you--as their internship progresses.
Gain New Ideas
The corporate mindset can get all of us stuck in mindsets that limit creativity. Bringing in an intern could provide your company with fresh and trendy new concepts that could change your company for the better. Once you have an intern, encourage him or her to attend meetings and then to debrief with their supervisor should they have any feedback or ideas.
Support Local High Schools
Building relationships in your community is a great way to get your brand out in the public for FREE. What better way than to offer internship experiences to your local high school students who are preparing for college or a trade school?
Word of Mouth
Hiring an intern provides your company with the opportunity to be talked about. If your organization is offering the best setting for an intern, they will be sure to convey their positive feelings to their peers, family and, family!
Think your company could inspire today's youth into your industry? Check out JA Job Shadow!